FAQ
Welcome to F319! If this is your first time shopping with us, we suggest you spend a few minutes reading this guide for a better shopping experience.
ABOUT US
Fashion319 is an online platform that has products from much known and excellent quality suppliers in China. We promise to provide items with the best styles, prices, and customer service.
Different from other agent sites, we directly manage goods on our website and you do not need to find an agent for your order. We strive to offer you a comprehensive and coherent shopping experience with no complicated rules and processes.
Quality Assurance: We will email confirmation of the physical details of the product. Before the goods are sent overseas, you will receive six high-quality pictures of the goods for free, showing the front, back, and side details of the goods. Only after you are confirmed with those pictures, we will deliver it to you. However, if you do not respond to the QC email/message for over 72 hours, we have to start the shipping process.
Cost-Effective: spend the least money to buy the best quality products. F319 relies on strong relationships with domestic and foreign high-quality manufacturers to provide you with high-quality products at incredibly low prices.
Efficient customer service: Private customer service will be assigned to you on Whatsapp at your command. If you prefer a real person to speak with rather than contacting by email, please contact our WhatsApp provided below. We will always be here for any questions for both pre-sale and after-sale issues.
CUSTOMER SERVICE
You can contact our customer service team via email, WhatsApp, and Wechat. Please be aware that if the package is detented by custom due to customer's special requests, we are not responsible for your loss. (including but not limited to: keeping original packaging, including a receipt, including full-packaging, or putting everything in a super big package. )

Email: fashion319official@gmail.com 24/7, twenty-four hours a day, seven days a week
Skype: https://join.skype.com/invite/YhV3sk0ikZka,9:00 am – 22:00 pm
SHOPPING GUIDE

First, Sign Up
a. Click the
icon on the top right
b. Click "Create an account" on the new page
c. After successfully signed up, click " Shipping Address" to add shipping address information
Second, search
a. There are three ways to do research. First, you can explore our product categories from the top menu. If you prefer to search by brand, you can go under each category and click on the brand name you like. We only put the major brands on the first page of each category, and you may click "more brands" if you did not find your loved ones. Last but not least, we just launched a new feature for sneakers and bags so that you can search for their official item number. If you find this new feature useful, please tell us and we will strive to make it available for other products as well.
a) Click the product you like, and explore the product details
b) Click " see albums", you will be direct to the Yupoo albums to see more detailed pictures
c) You can explore factory photos of other products in our album, too. You can easily find them on www.fashion319.com by searching the item number shown in the album.
Third, Checkout
a. How to checkout the items you want
When you want to checkout, click "buy now" to buy the selected item ONLY or click "add to cart" to check our later with other products in the cart.
Please double check the color and size before you submit your order. If you need any assistance to make the decision, please contact our customer service.
b. Enter the checkout page
Left anything you want us to know in the lower left "Order Comment" box. After confirming all information is correct, click "Determine Order" on the lower right corner to receive an email notification from us.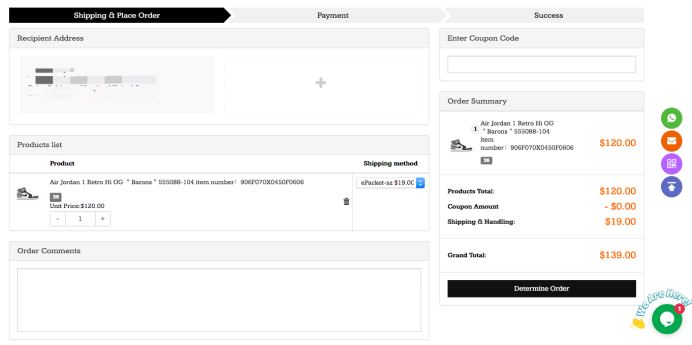 You will now enter the payment page. You can select either Paypal to pay for your order. You will receive a payment confirmation email after you successfully pay. If you did not receive it, please contact us ASAP.